International Day of the Girl
is on the 11th of October
and this year's theme is,
'My Voice, Our Equal Future'
. This day is an important reminder of the vital role girls play in our society. Educating and empowering girls is one of the most powerful mechanisms for creating positive change.  We could not think of a more fitting way to celebrate International Day of the Girl than to highlight the incredible young girls from
BRAVE
and share their stories.
Ten years ago, a group of ten-year-old girls from Manenberg, a vulnerable community on the outskirts of Cape Town in South Africa, decided to come together and make their lives and communities safer. These young girls called themselves the 'Rock Girls', an ode to the anti-apartheid slogan, "When you strike a woman, you strike a rock."
Watch our film to hear the BRAVE Girls' stories and learn more about the work BRAVE is doing to inspire and empower young girls.
Over the last ten years, this initiative has evolved and developed into
BRAVE
a girl-led organisation that inspires and empowers young girls to become future leaders.
BRAVE has reached over 900 girls
through their afterschool leadership workshops, holiday camps, micro-adventures, road trips, and outreach projects.
Despite the challenges of lockdown, BRAVE remained committed to helping the young girls under their mentorship in Manenberg. The BRAVE team has been providing weekly care packages of toiletries, food, and warm clothing, to the girls and their families. The BRAVE leaders have also been checking in on the young girls and running virtual creative and mentorship workshops to ensure the girls feel supported and have a way to express themselves.
Over the last few months, we have been fortunate enough to spend some time getting to know these incredible young girls, hearing their stories and learning more about their experiences during COVID-19.
The resilience of these young girls is nothing short of inspiring. They are living on the frontlines of gang-violence and poverty, and face daily challenges, but they have not let these circumstances define them. Their empathy, passion, courage and hopefulness left us in awe.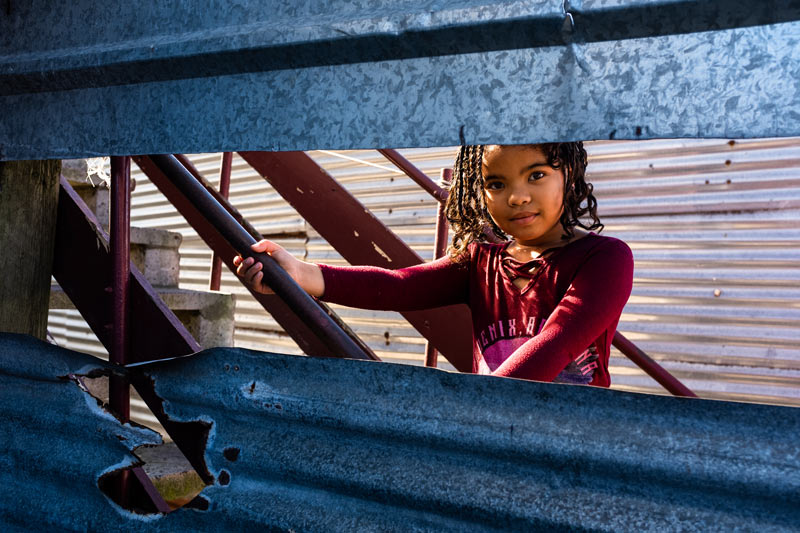 We were also able to spend some time with the BRAVE Senior Leaders at the BRAVE Hub, a safe space in Sea Point, South Africa, where the Senior Leaders live and run BRAVE. These young women, many of whom are the original founders of Rock Girls, run the day-to-day operations of BRAVE, facilitate workshops and support and mentor the Junior girls.
The challenges these girls face and the pain they have overcome are only a small part of their stories. BRAVE recognises this and works tirelessly to ensure that each of the young girls they work with has the support, opportunities and tools necessary to reach their full potential in life and become strong, independent and fearless young female-leaders.
Education is one of the most powerful tools for empowering young girls and women. BRAVE is committed to ensuring that girls have access to education and the support they need to continue their education. A core part of BRAVE is taking the girls on transformative adventures, such as road trips across their countries and beyond to share their stories, connect with other young girls and use the skills they have gained through BRAVE to advocate for and empower other young girls.
These adventures can be life-changing for young girls, especially those who are from communities like Manenberg, where opportunities like this are scarce. These road-trips allow girls to experience new places, people and cultures that leave them feeling inspired and help them escape the challenges they face and realise that the world is vast and full of exciting opportunities for them.
"My community is rough It is tough My community is full of gangsters It is very contagious My community is noisy at all times My community is open It also is full of surprises My community is free It is loved My community is incredible My community is open-minded The community I live in is fascinating It is happy and unbothered My community is bold and strong My community is just not enough."
A poem by BRAVE Junior Girl
BRAVE also works with an extensive network of individuals and organisations in the travel and media industry, which helps them connect young girls to mentors and run workshops like journalism and storytelling, that allow the BRAVE girls to find their passion and learn how to use their voices. To date, BRAVE has travelled over 5000km on various adventures and trained over 48 young girls as journalists.
BRAVE believes girls matter and supporting them creates positive changes in their own lives and their communities and countries. By investing in these young girls and empowering them, BRAVE is developing future leaders. Leaders who are kind, empathetic, brave and who understand the importance of supporting and empowering young girls and women.
These young girls have already achieved so much, and we cannot wait to see all they will still achieve and the impact they will have. Girls have the power to change the world. Young girls and women need to be at the centre of conversations surrounding the future of our world. Their voices need to be at the forefront as we work to address issues like gender inequality, climate change, access to education and women's rights. Today, in honour of International Day of the Girl, you can make a difference by sharing the stories of the BRAVE Girls and amplifying their voices.
Learn more about BRAVE and how you can help support and empower these young girls.